In previous odes to jeans on this blog, I've totally spouted off on the unattractiveness of the low-rise jean. I went on and on about how they make your butt look bad and that if you're not a toothpick or a supermodel but rather an ordinary woman with some actual flesh on her hips, you've probably been sporting the dreaded muffin-top, too, possibly without even knowing it.
But after a recent trip to the mall, I've observed that the tides are turning and waistlines are rising. And rising. And rising.
And while these high-waisted Levis may not look so so bad on this model, I assure you they are still the devil's handiwork for they will lead to…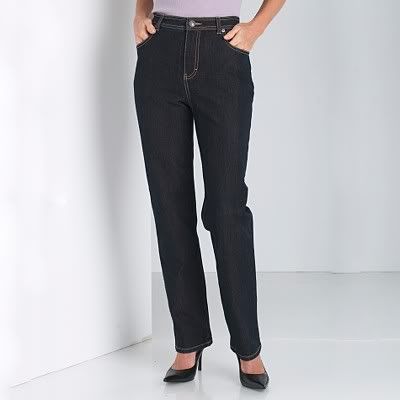 …the return of the *ominous pause* MOM JEAN!
And could usher in jeans like these, lace insets notwithstanding.
Look. At. Them. They're up to her (his?) RIBS!
DO NOT WANT!!!
And yes, celebs ARE doing it but it's obvious their stylists have deep-seated contempt for them because why else would they let them out in public in these things?


My fear is that these high waisted, tapered leg jeans will open the door to…PLEATS *gasp*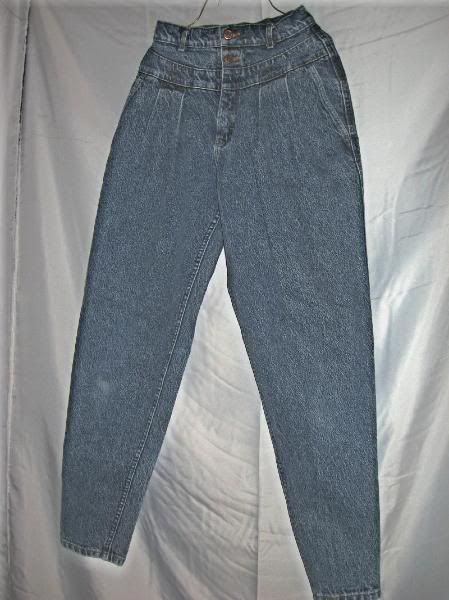 And those…
…will lead to high waists and pleats and tapered legs and buffalo plaids and STIRRUPS!!!
I'm proud to say I never EVER owned a pair of stirrup pants.
But I did own lots of these. And I loved them. They're good butt pants.

Heidi Klum's Jordache, however, are NOT good because they're skinny-leg jeans. Incidentally, she's their new model in a campaign designed to make Jordache cool again. Um…didn't anyone tell her that for years Jordache were sold exclusively at Walmart? I don't envy her task.
But I'd wear those evil skinny-leg Jordache from Walmart before I'd ever let a Kenny Rogers song touch my butt.
Your eyes do not deceive you… That's him, right there on the hip pocket.
You gotta know when to hold 'em, Know when to fold 'em
Know when to give them to charity — and then run…
One of my concerns amidst these extremely high waistlines is that my beloved mid-rise jeans will go away for another 20 years.
Let me just tell you that I was wearing Levis 501's 15 years ago because I could wear them down on my hips with a fitted shirt and a funky belt and avoid the whole stick o' denim right up under my boobs look. But today's jeans are so much better than 501's and I'm just not ready to give them up.
This is me in my mid-rise jeans. Don't I look hot?.